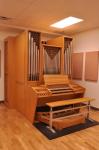 The 1969 Hammer (German) pipe organ was originally built for Colorado Women's College (Temple Buell College). CSU acquired it in 2008 as part of the move from the old Music Building to the new University Center for the Arts (old Fort Collins High School).

Bill and I were presented with a 10' x 10' storage unit full of dusty parts - no pictures, no plans. We spent a lot of time releathering, cleaning, polishing, re-rounding pipes, etc., etc.

This extremely compact 14-stop organ was very cleverly engineered - which is not to say it is easy to work on! Lots of things are fantastically difficult to access. Fortunately, it has proven to be very reliable and has require very little work since installation.